Storage space happens to be one of the significant concerns of people looking for wardrobes. There are many factors that one must consider before buying one, especially the area it would occupy. Fitted wardrobes erase such concerns as they fit perfectly in the available space of your house, maximizing your storage space and aesthetics. They are available in a wide range of styles and can be tailored to blend with the aesthetics of your home. Here are 30 fitted wardrobe ideas that might help you find your style.
1. The Classic Elegance
Adorn your bedroom with a timeless, classic style fitted wardrobe that exudes that olden charm. Its simple and elegant style goes with almost every aesthetic. Whether you are looking for a not-so-overbearing statement piece or better storage solutions, the classic style has got your back.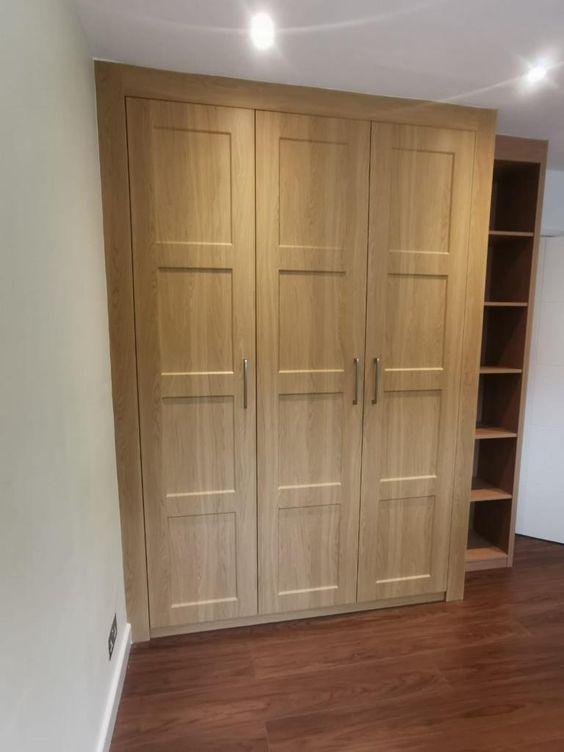 2. The Contemporary Chic
Contemporary Chic-style fitted wardrobes give off a modern look with their sleek style and modern finishes. It gives a luxurious and chic feel to your home. They come in various styles, from highly glamorous to something simple and stylistic that breathes life into your space.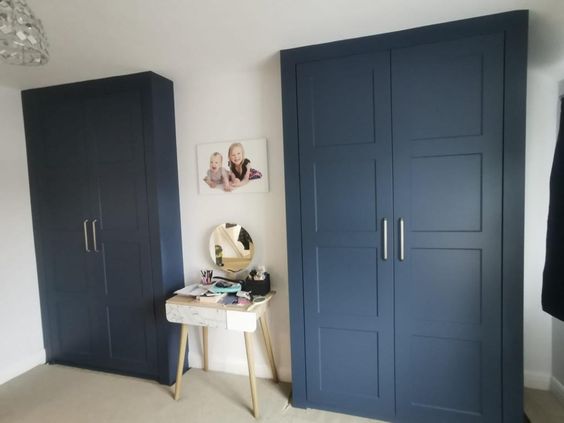 3. Walk-in Wardrobe Luxuries
This style of wardrobe gives your living space a tinge of luxury. Not only do they provide bigger storage space but they also help you to stay organized. It is easy to mould and personalize with customizable selves and room for ventilation that will keep your clothes from smelling musty.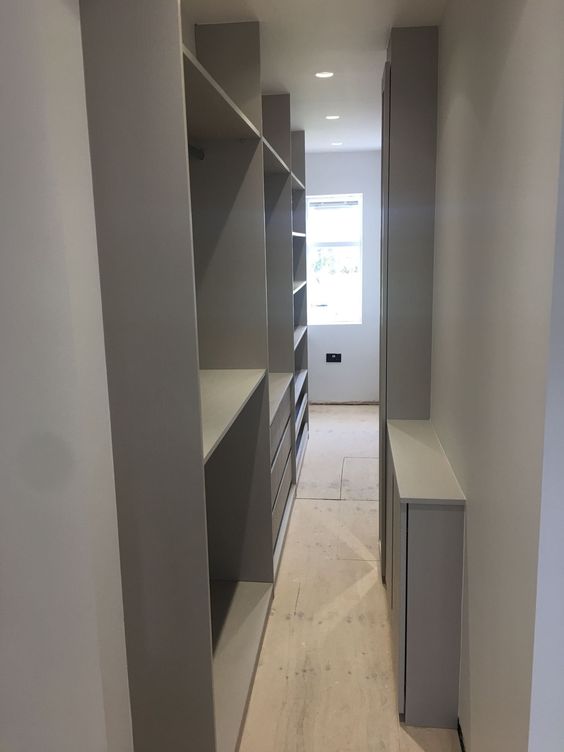 4. Minimalist Marvels
Minimalistic designs are a must for small spaces. If you want your space to not look too confined, then avoid getting big furniture and opt for minimal designs. There are a wide range of minimalist fitted wardrobe, like fitted cornered wardrobe, etc. These designs are a fusion of modern aesthetics and better functionality. They help make cramped rooms look more spacious.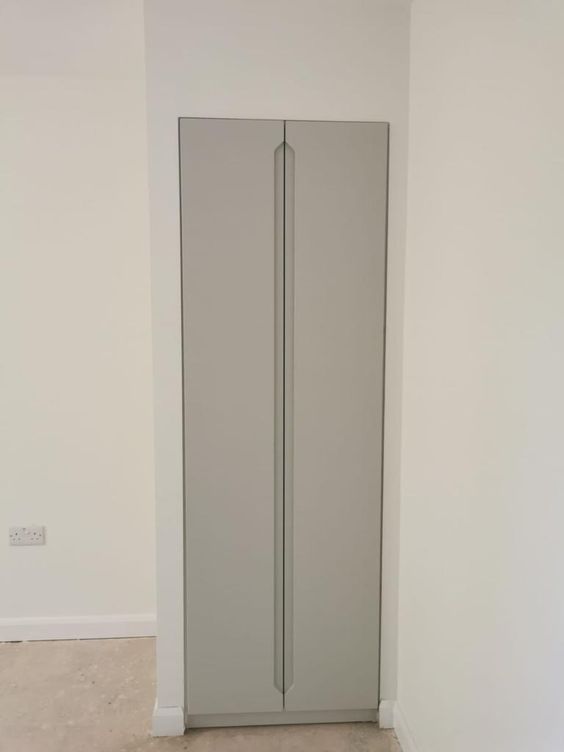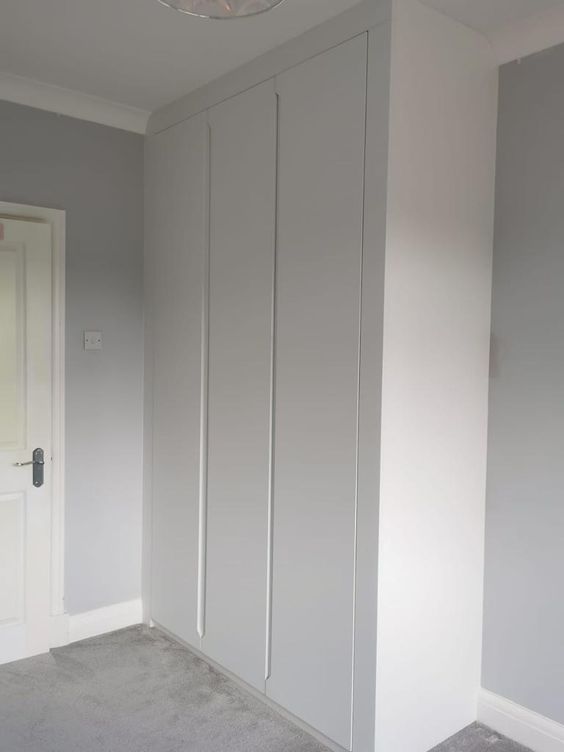 5. Mirrored Fitted Wardrobe
The mirrored fitted wardrobe works as both a full-length mirror and a wardrobe. The room appears more spacious and brighter because of the mirrors. They are multifunctional and help elevate the aesthetics of the room. 
6. L-Shaped Wardrobe
This style is ideal for compact spaces as they utilize the corner space. They are also known as corner wardrobes.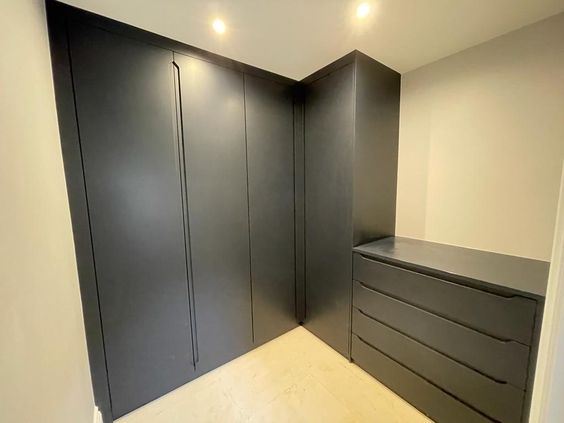 7. Fitted Wardrobe with Sliding Doors
They help to save floor space and can blend with the interior of the room. Fitted wardrobes with sliding doors are a great addition to your home or office space. As they provide better storage in minimal space, it makes them ideal for smaller rooms.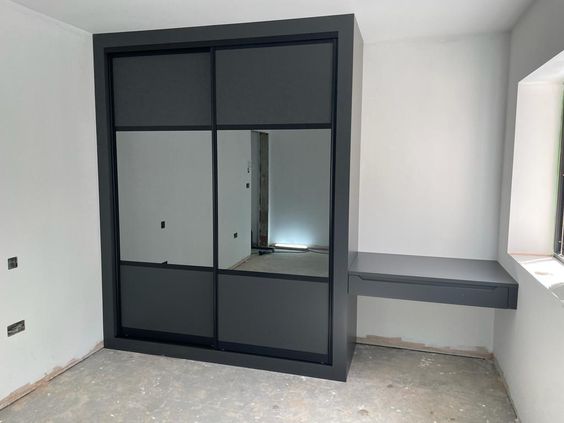 8. Classic White
While looking for the color and style of your fitted wardrobe, keep in mind these popular options. Classic white is truly a timeless choice that goes with any color theme. It also gives a clean and bright look.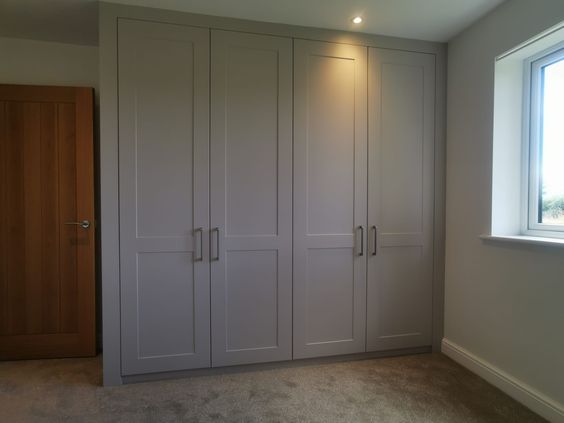 9. Warm Tones
To give your home a warm and inviting feeling, wood finishes like natural oak and walnut wardrobes would be the best choice.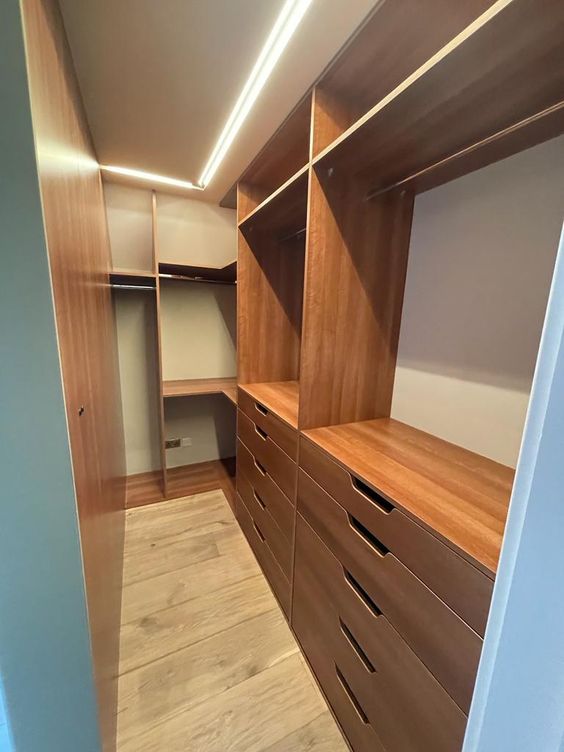 10. Neutral Colors
If you want to give your home a touch of modern elegance, go for neutral colors like grey or black.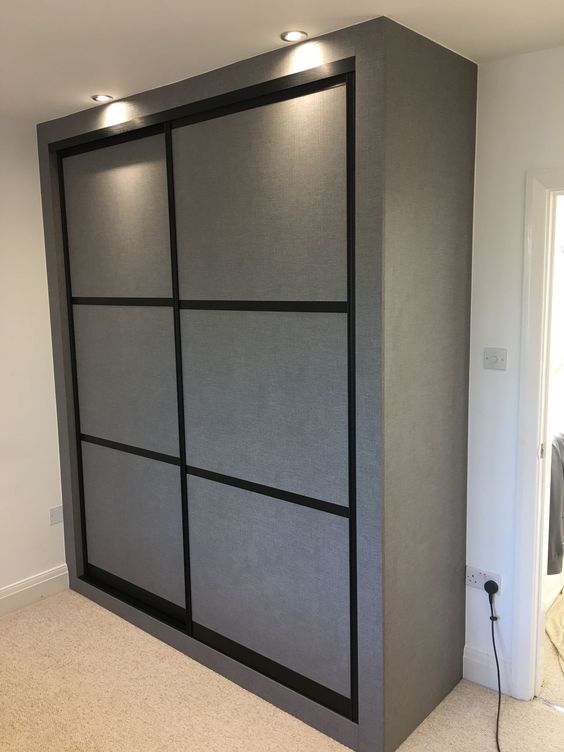 11. Glossy Finishes
To add more drama and class, go for high gloss fitted wardrobes.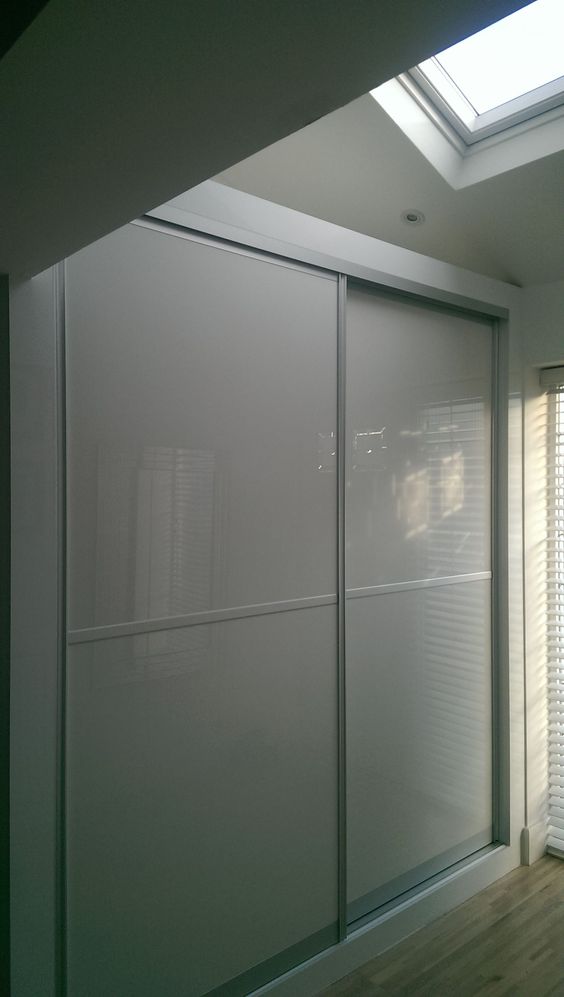 12. Go Bold
Go for more bold colors if you want your wardrobe to pop and be the center of attention.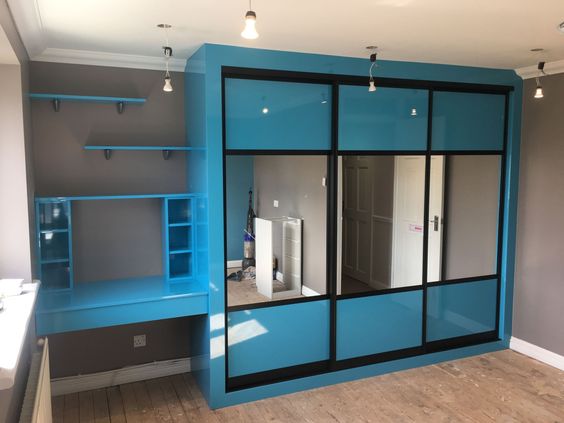 13. Open Wardrobe
The open airflow will help keep the clothes fresh, and you can also show off your favourite outfits. It also gives off a minimal look.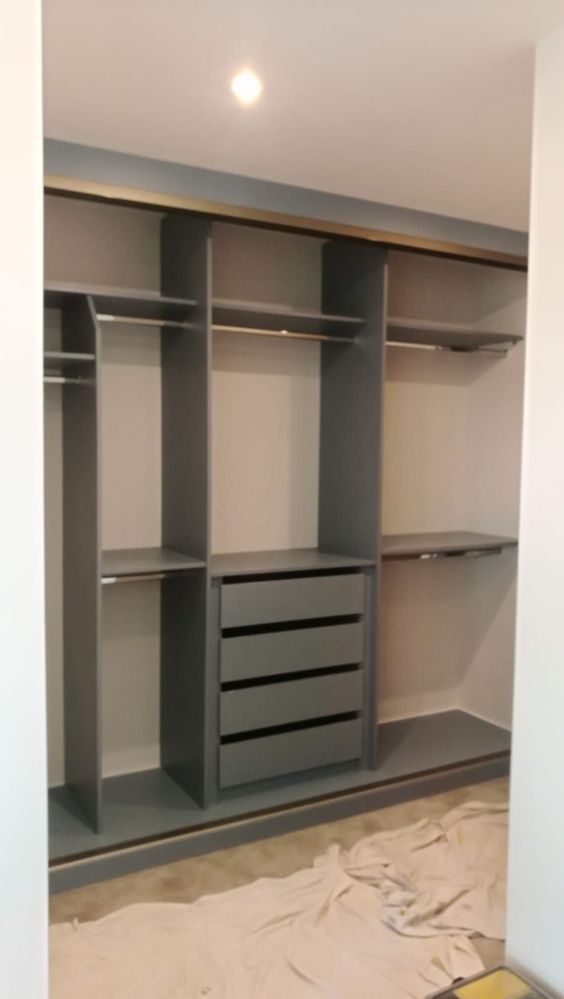 14. Interior Lighting
Accessorizing your wardrobe with interior lighting helps to illuminate your wardrobe from the inside, which makes finding your things easier.
15. Pull-Out Accessories
They help you to be more organized with your closet contents by providing you with spaces for your ties, socks, etc.
16. Drawer Dividers
They help to keep smaller things like jewelry, etc., organized.
17. Decorative Back Panels
These help add character to your wardrobe.
18. Shoe Racks
This will help to keep your footwear organized.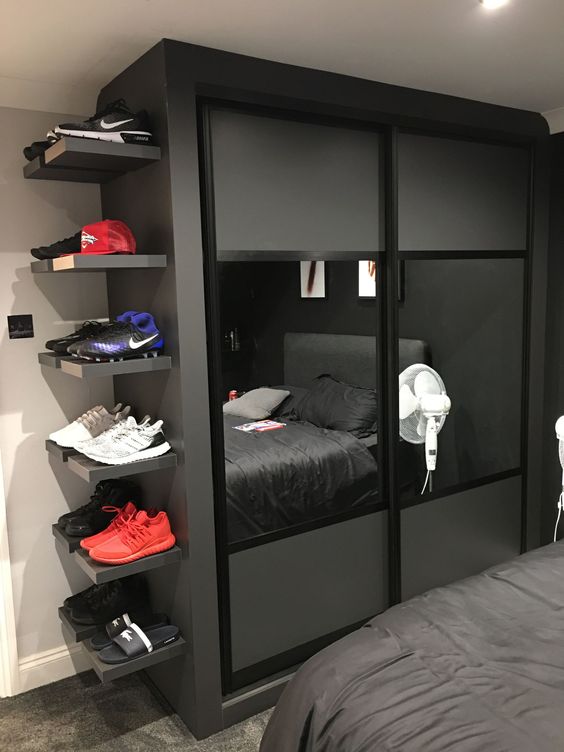 19. Add Hooks
Adding hooks on the doors of the wardrobe adds more space to keep your handbags, hats, etc. 
20. Add a Top-Shelf
Top shelves are great for storing things you do not use that often like suitcases, luggage bags, seasonal articles of clothing, etc. 
21. Add Bottom Shelves
Bottom shelves can be used for storing shoes, or other such things. Do not let the space below your garment bar go to waste.
22. Keep in Mind the Height
Building a fitted wardrobe to the height of the ceiling will give you more storage space.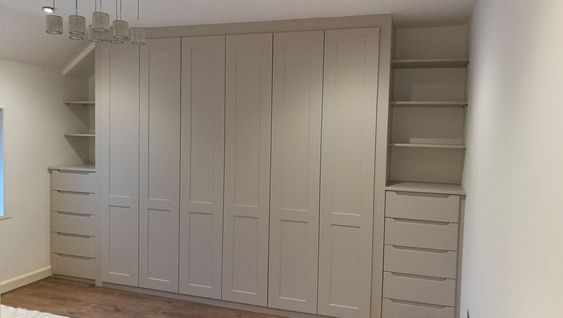 23. Customize the Knobs
Invest in customized wardrobe door knots to give a unique look to your wardrobe.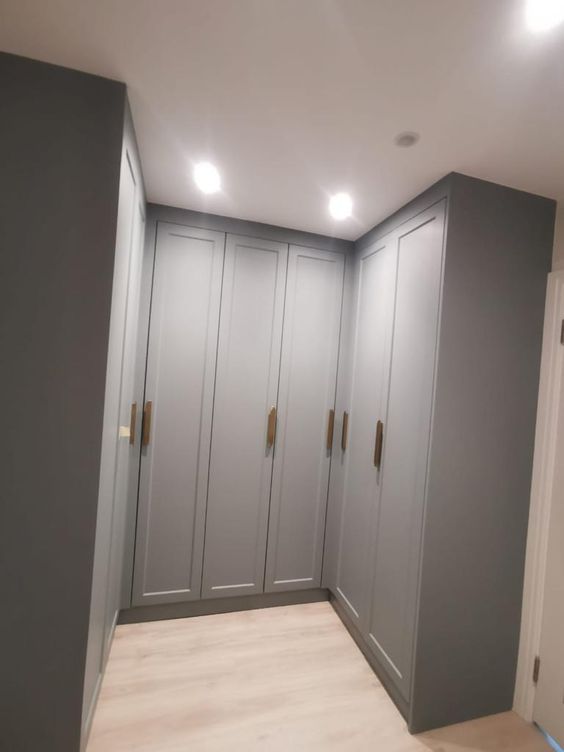 24. Close and Open Storage
Mixing close and open storage allows you to turn your wardrobe into a decore as well.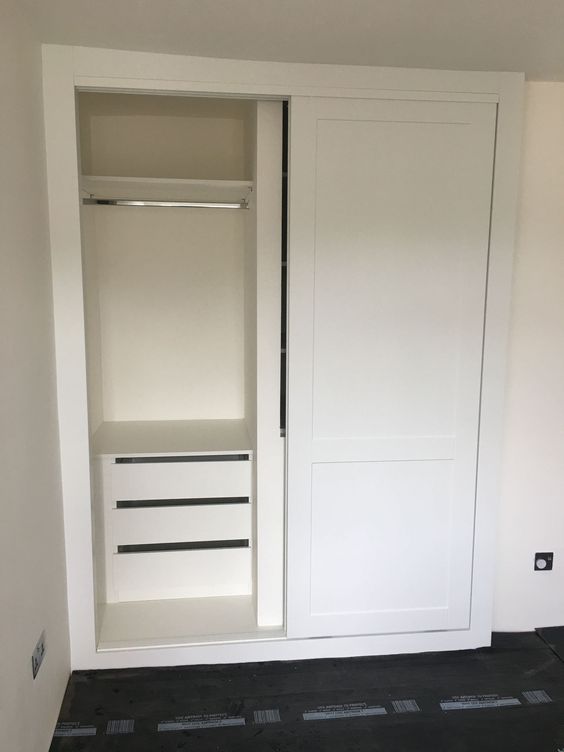 25. Add Character to Doors
Adding designs like panelling to the doors would add more character to them, and help your wardrobe either stand out or blend in depending on the design.
26. Add Wallpaper
Wallpapers are a great way to elevate your wardrobe. This allows you to transform your wardrobe into a piece of interior decor.
27 . Add a Built-in Vanity
This allows you to save space by incorporating the vanity inside the wardrobe.
28. Split Your Fitted Wardrobe
The wardrobe is split into two parts, a top and a bottom. This creates self-space in the middle to place decor items.
29. Add Rails
If you hate to fold your clothes add inner rails to your fitted wardrobe. You can either add full or half rails depending on your preference.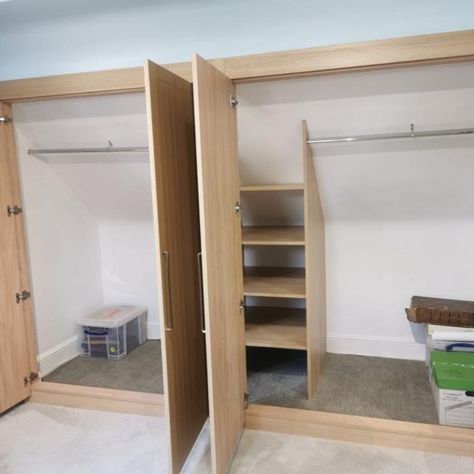 30. Disguise Your Fitted Wardrobe
Blend in the fitted wardrobe with your interior by painting them the same as your wall colour or any block colour.